Mary – Virgin from Uetikon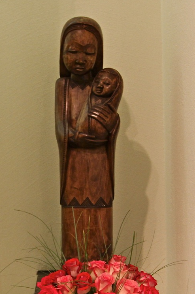 Visit the African Madonna
Catholic Church St-Francis of Assisi
Tram Road 32
8707 Uetikon upon Lake
The African Church
The Bible situates already the beginning of Christianity in Africa: an officer of Queen Candance is baptised (Acts 8.27), altough the North of Africa and Ethiopia are Christianized at the end of antiquity, Christianity is unknown in most of Africa until 150 years.
From the beginning, Christianity was in dialogue with different cultures: it wanted to explain the message of the Gospel in the languages and symbols of the people. In Africa, Mary, the mother of Jesus, is revered everywhere by everyone. The saints are also known, depending on the missionaries operating in a country. However, many Africans do not know that St. Augustine, St. Monica and St. Maurice were Africans. The veneration of saints does not play a major role in Africa.
Mama Africa
After-on
Immaculate Conception
in 2010, an African Madonna is at the Catholic Church in Uetikon-upon-Lake. African Catholics and
groups
regularly come to Uetikon to visit Mary.
A short
pilgrimage
from Meilen or Egg runs through a beautiful landscape. The beauty of the landscape demonstrates the greatnes of the Creator. There is various information available such as
detailed trail map
,
songs of Mary
an
prayers
, which will help you, if you are still a bit inexperienced in pilgrimage or where never here before.
12/2011/Di/Ja